These additional eggs are merely hidden images within Riven. I suspect that I need to find one more of these, to be able to reach the number five, so I'm still looking. But you can view these without the tedious work of going through the steps as seen before.
If you begin by going back to where it all starts in Riven, inside the small "prison", the only thing you need to do is to step outside, look to your left, then up. There you will see Richard Vander Wende's two daughters, Helen (left) and Evelyn (source:
The Riven Guild
)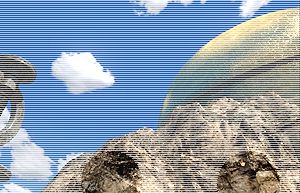 © Copyright Cyan. All rights reserved.
Next additional easter egg [ --> ]
[ Additional easter egg number one | two | three | four ]
---
© Copyright 1998, Massimo Fiorentino. All rights reserved
Riven™
, Myst™ & Cyan™ are copyrighted trademarks of
Cyan
Go and visit my
[°} interiority