Now these easter eggs doesn't have to be seen in the following sequence, but for your convenience I have mapped out the easiest route for you to walk through the spots.
Since you are by the Mag-lev on Temple Island, turn around and walk into Ghen's Temple Room and click on the following lamp: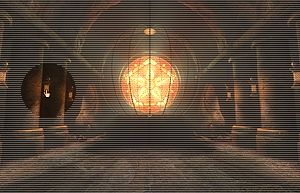 © Copyright Cyan. All rights reserved.
Oh, so you want to see how it looks? Are you sure? Shouldn't you go and explore and experience it all by yourself? All right then...if you just can't stand it... then click here to see what happens...
On to the next easter egg [ --> ]
[ Easter egg number one | two | three | four | five | six ]
---
© Copyright 1998, Massimo Fiorentino. All rights reserved
Riven™
, Myst™ & Cyan™ are copyrighted trademarks of
Cyan
Go and visit my
[°} interiority