In the beginning of the game you're entering Riven frome one of Atrus' books, and in this sequence you're looking deeply into the image from within the book - the image that transports you to the Islands. With a neat little program, written by Bo Lindbergh, called "
Riven Movie Snoop
" you can actually gain access to the individual movies within the game, and if you take a closer look at this specific movie, you'll find some interesting pictures: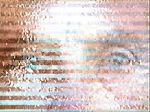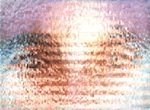 © Copyright Cyan. All rights reserved.
These two images resembles - to me - two unknown human beings, seamlessly blended into the movie sequence in a way where your eyes cannot perceive it! It seems to be the same two men, and they appear at least 11-12 times during the duration of the movie. I'd hate to say anything mildly negative about Riven, but it seems that we're dealing with some kind of mild "manipulation". In the split second you see these faces your mind observes them and thereby involving you more immensly in the movie sequence. Very nice indeed - unless we're talking about another hidden "signature".
But who are these men? Could they be the brothers themselves - without the glasses? It's hard to tell...
You can watch the whole introduction video here:
More secrets [ --> ]
[ The hidden faces | the book press | the mysterious spots ]
---
© Copyright 1998, Massimo Fiorentino. All rights reserved
Riven™
, Myst™ & Cyan™ are copyrighted trademarks of
Cyan
Go and visit my
[°} interiority
---
Privacy Policy
|
Cookie Policy