Where creatures float and waters rise,
only one of five will open.
The one that stands out is your prize,
small, orange and unbroken.


Go to Ghen's lab on Book Assembly Island and find the small drawer on one of the tables. One of these drawers will open and inside you'll find some broken eggs.
Very symbolic indeed - the first secret spot is the small orange and unbroken egg.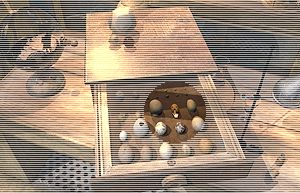 © Copyright Cyan. All rights reserved.

Next spot [ --> ]
[ How to unlock the eggs | Secret spot number one | two | three | four | five ]
---
© Copyright 1998, Massimo Fiorentino. All rights reserved
Riven™
, Myst™ & Cyan™ are copyrighted trademarks of
Cyan
Go and visit my
[°} interiority