Control the bridges, enjoy the view,
and think about the ride here.
Something you see just can't be true,
So make the mirage disappear.


Now to the control tower by the lake on Jungle Island. Take the sub and go there.
The control tower is the place by the lake where you find the switches for the ladders. Go up there and take a look outside the window. Now if you have succeeded so far, and all five swithces are up, you will be able to see your sub still sitting on top of the cliff where you lowered it. This of course, is nonsense, since you took it to get to the control room. Klick on it, and it will dissapear. Then you have completed the third step.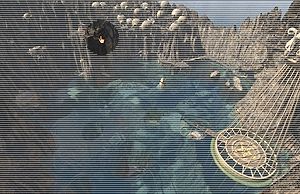 © Copyright Cyan. All rights reserved.
Next spot [ --> ]
[ How to unlock the eggs | Secret spot number one | two | three | four | five ]
---
© Copyright 1998, Massimo Fiorentino. All rights reserved
Riven™
, Myst™ & Cyan™ are copyrighted trademarks of
Cyan
Go and visit my
[°} interiority