Slowly rising from the bed,
and closer to your goal.
Clear the cobwebs from your head,
and search the empty bowl.


This one is hard if you haven't gotten far in the game. You must go to the Moiety Age (The age with the surreal "tree"), and there you must click on the bowl in the room you're locked up in. Remember, if you allready have been locked up there, you cannot return there again, so you must go back to a previously saved game (if you have one) and go to the Moiety Age once more.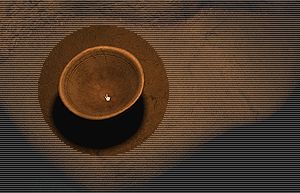 © Copyright Cyan. All rights reserved.

Next spot [ --> ]
[ How to unlock the eggs | Secret spot number one | two | three | four | five ]
---
© Copyright 1998, Massimo Fiorentino. All rights reserved
Riven™
, Myst™ & Cyan™ are copyrighted trademarks of
Cyan
Go and visit my
[°} interiority