Yahoo! Take the ride down the log chipper again. And you can do it as many times as you like! What a load of fun. Not the big surprise, though. But hey - are we to complain? We can still have fun with this game, several years after!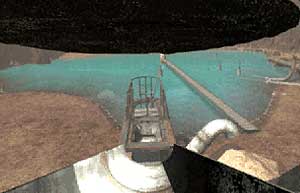 © Copyright Cyan. All rights reserved.

Actually, I had once wondered why on earth there was this short movie on this disk, when I snooped around with the Riven Movie Snoop tool, and then I forgot all about it until Gregg Collins told me he'd found the sixth egg. Remarkable. Power to Gregg for finding this!

On to the additional easter eggs [ --> ]
[ Easter egg number one | two | three | four | five | six ]
---
© Copyright 1998, Massimo Fiorentino. All rights reserved
Riven™
, Myst™ & Cyan™ are copyrighted trademarks of
Cyan
Go and visit my
[°} interiority