"Che bella cosa è na jurnata 'e sole,
n'aria serena doppo na tempesta!
Pe'll'aria fresca pare già na festa...
Che bella cosa na jurnata 'e sole."

(Ghen (played by John Keston) sings the first verse from an Italian folk song (originally from Neaples - my home town!), called "'O Sole Mio").
This one too, is a movie, so get going and look for your self!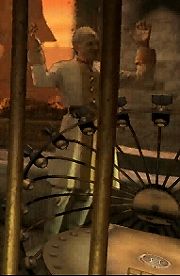 © Copyright Cyan. All rights reserved.

Can't wait? Here it is:
Gregg Collins told me that you can reactivate this movie once it is done, by clicking on the lamp on the top of the 'desk' in front of you (thanks Gregg):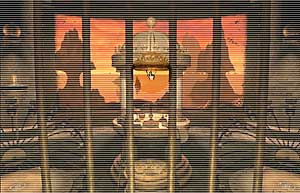 © Copyright Cyan. All rights reserved.

John Keston is by the way a hip old chap - he's an internationally respected actor and singer, a retired university professor and world class marathoner! (there were a good deal of info on this at http://www.pearlhealth.com/visitor/testimonials.asp, but it doesn't exsist any longer...) He has been awarded the title as "Athlete of the year" seven times(!) and holds the world record in marathon in his age group! Damn! Impressive!

On to the next easter egg [ --> ]
[ Easter egg number one | two | three | four | five | six ]
---
© Copyright 1998, Massimo Fiorentino. All rights reserved
Riven™
, Myst™ & Cyan™ are copyrighted trademarks of
Cyan
Go and visit my
[°} interiority