When you encounter Ghen's guard, let's call him "Cho" in the beginning of the game, he is darted by a rebel, and dragged off a cliff nearby: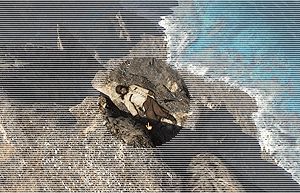 © Copyright Cyan. All rights reserved.
I have encountered seven secret spots on him (as the spots you use to unlock the easter eggs - where your cursor dissapear):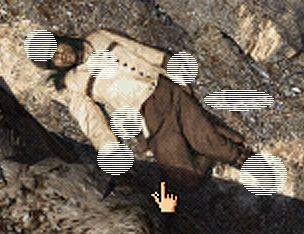 © Copyright Cyan. All rights reserved.
An extra spot, which Jeff Lyon and Scott Barber reminded me about, is found at the very beginning of the game, when you look back at the prison and looks up. The spot is on the star symbol: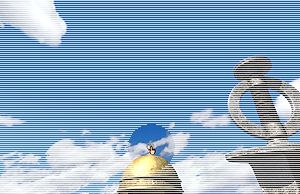 © Copyright Cyan. All rights reserved.
Sorry - no eggs here
As previously stated, I thought these spots could lead towards new eggs or the like. But they actually do not lead towards new adventures in Riven. Richard A Watson (RAWA) has confirmed this for me. Hey, after all they were pretty good "decoys"! :)
But it is good to finally know that the hunt is over. A whole year has passed, and I was actually beginning to feel that I lived on these islands! So with peace in mind, the wonderful world of Riven is fully explored - or is it? One never knows...
An easier way to unlock the eggs?
In August 2017, Joseph Grabko reached out to me and told me that these spots are part of a system to unlock all the easter eggs from the first island - despite the fact that Richard A Watson told me otherwise.
He pointed to this web site
, that shows you the exact process in order to do so. I haven't been able to test this myself, but it might work if you care to give it a try. It can also be, that this way of unlocking either didn't exist when I contacted Richard, or that he didn't know about it. Or just simply wanted to keep some secrets laying around. But if you test this out, feel free to drop me a line if you have any success!
Back to the menu [ --> ]
[ The hidden faces | the book press | the mysterious spots ]
---
© Copyright 1998, Massimo Fiorentino. All rights reserved
Riven™
, Myst™ & Cyan™ are copyrighted trademarks of
Cyan
Go and visit my
[°} interiority